Company Tour
Production Workshop
Mingfeng's production workshops are outfitted with a number of automated equipment pieces, including CNC equipment, chip dispensing machines, SMD placement equipment, machining equipment and more. CNC equipment carries out a quick proofing. Chip dispensing machines effectively control the color temperature of the lights, and the SMD placement equipment improves the chip productivity and quality.
Assembly Workshop
Mingfeng's facilities include a lamp assembly workshop, LED panel light assembly workshop, LED flood lights assembly workshop, LED plant grow light assembly workshop and high bay LED light assembly workshop. All production line workers are talented mechanics and have extensive experience, and we are IQC and OQC certified.
Testing Workshop
100% of Mingfeng's products must pass a 48 hour, uninterrupted lighting test, and all of our outdoor products must pass a water resistance test. We spot-check the photoelectric data of all products in strict accordance with AQL standards, and the photoelectric detection data mainly includes power (W), efficacy (lm/W), color temperature (CCT), color rendering index (CRI), voltage, and current. On new products, we will also conduct an extra destructive testing process to ensure the final quality. Detections and tests include an optical test, electric shock protection test, waterproof test, high and low temperature testing, salt spray test, drop test, wear testing, fire test, electromagnetic compatibility and electromagnetic interference test (EMC, EMI), amd low voltage command test (LVD).
Silkscreen printing workshop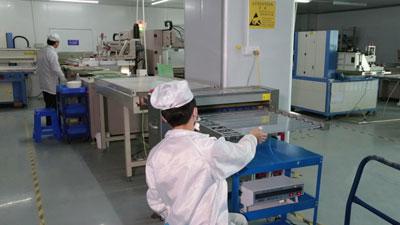 The screen printed light guide plate of the LED panel light ensures the light illuminates evenly to prevent dark spots and areas. The screen printing LED panel light features a high quality, low cost, and excellent productivity.
Aging test workshop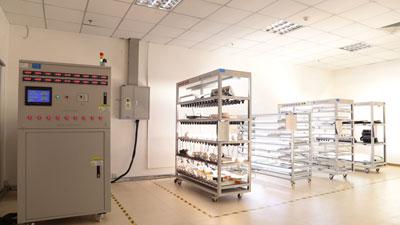 The regular products have the 48-hour uninterrupted lighting test and the new products have the 72-hour lighting test. During the lighting test, the lights will also have the high and low pressure impact testing which is for imitating the working condition of our client local power grids to make sure our products are 100% suitable for the local power grid.